With the COVID-19 outbreak, t
he importance of business preparedness and contingency planning, as we are learning, has never been more valuable than now.
School leaders are now facing the new challenge of continuing educational efforts while maintaining required
health safety standards and ensuring that we are prepared before the 1st day of school.
In order for us to successfully begin a new school year safely and responsibly together, each day this week I will be posting
my school's resources and other helpful content to the blog and the Principal Principles Leadership Group. I encourage you to follow along each day to share/find materials, tips, links, ideas, etc., for back-to-school in response to COVID-19.
HERE IS WHAT YOU CAN EXPECT THIS WEEK:
Today, I want to share with you my school's Return to School Plan along with links to multiple other documents. Feel free to use the documents as a guide for your campus!
A FEW THINGS TO KEEP IN MIND WHEN CREATING YOUR RETURN TO SCHOOL PLAN:
1. The top priority is ensuring the safety of the staff and students.
3. Health protocols and safety regulations are changing frequently while new information is being discovered about COVID-19. With this, ensure that your RTS plan is a "living" guide for staff and students to reference frequently for any updates.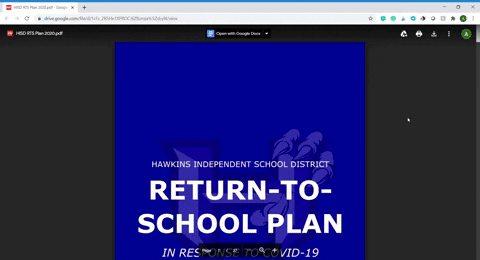 The Return to School Guide is broken down into three main sections.
SECTION I: Safety of Students, Staff, and Visitors
SECTION II. Academics and Home-Based Learning
SECTION III. Extracurricular and District-Wide Planning
The guide is posted on my school's site,
Hawkins ISD Strong Start
. The site is created in
Google Sites
and has been helpful for staff and parents to find information for this school year all in one location. The site includes printables you may find helpful including:

WANT A COPY OF THE FILES?
Follow the directions below to access a copy of the editable files.
1. Click on the linked documents above
2. Download the file to YOUR computer (no need to request access). This will allow you to edit the Word Document.
FOUND THIS INFORMATION HELPFUL?
Stay tuned for more content tomorrow where I will share virtual staff morale ideas. Don't forget to visit the
Principal Principles Leadership Group
to share/find more back-to-school content from other school leaders!